Motorised Blinds: Your Questions Answered
Posted on 7 June 2021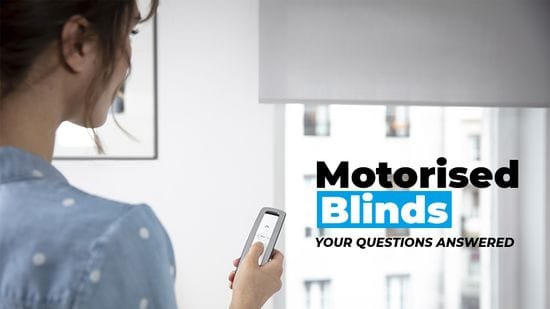 Motorised blinds aren't as common as they could be in Australian homes. At Custom Blinds and Shutter World, we're aiming to change that.
We believe that one of the biggest things holding homeowners back is the misconceptions surrounding motorised blinds.
Keep reading to see some of the most common questions surrounding motorised blinds and answers that will solve common misconceptions.
#1: Are Motorised Blinds Hard to Clean?
One of the most common misconceptions that we hear is that motorised blinds are hard to clean.
Of course that isn't true, motorised blinds are just as easy to care for as any other blind.
Typically, you can care for your motorised blinds with routine maintenance like:
Dusting
Vacuuming (on a low setting)
Spot Cleaning
For more care tips, have a look through one of our product pages.
#2: Are Motorised Blinds Restrictive to Styles?
Motorised blinds can be just about any colour and style you can think of.
If you're a homeowner with a specific theme or colour throughout your house, you can talk to us today about specific styles that you'd like by contacting us here.
You can also get a free measure and quote by calling (07) 5537 6333 and making an appointment or booking a consultation.
#3: Do Motorised Blinds Only Work on Certain Windows?
Whether it's an awkwardly shaped window or a whole glass wall, we can fit motorised blinds onto it.
We custom design and build blinds to fit and we'd be happy to come out and provide you with options for your dream solution.
Click here to learn more about a customised measure and quote.
#4: Are Motorised Blinds Noisy?
If it's noise that you're worried about, motorised blinds will actually help you improve the peace and quiet in your home.
Ideally, motorised blinds should make little to no noise at all. Additionally, having your blinds down will restrict the level of noise entering your home from outside.
If you'd like a demonstration, you can also visit our showroom.
#5: Are Motorised Blinds Expensive?
The #1 most common myth about motorised blinds is that they're too fancy and only for the most glamorous.
They're actually super accessible price-wise, talk to us today and book your free quote.
You'll be surprised with how easy and cost effective Custom Blinds and Shutter World Gold Coast is, call now at (07) 5537 6333.
Post comment