How Blinds Can Help You Save On Your Energy Bills
Posted on 5 July 2021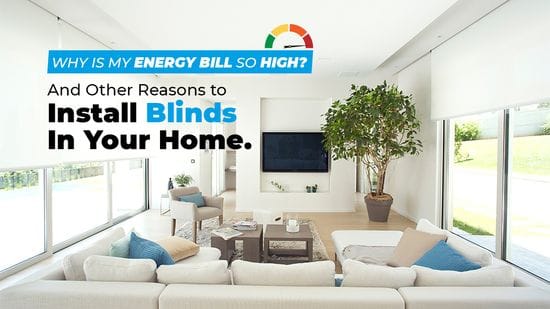 Energy bills can sting - here's how the right blinds can help you.
Expensive energy bills can usually be chalked up to the usual offenders like:
Running your air conditioning to heat or cool the house
The electric water heater
The refrigerator
Leaving the lights on
The dryer
You can get away with a few things like making sure to turn lights off or drying your clothes out on the line.
But as many Gold Coast and surrounding residents know, the air conditioner is pretty much a necessity.
One of the best ways to save money without turning off the aircon is to install the right blinds in your home and to operate them accordingly.
Which Blinds Are Best For Insulation and Temperature Control?
The blinds you choose to use will play a big factor in the temperature of your home. You can use them to keep your rooms cool in summer and you can use them to keep them warm in winter.
So which blinds are best for your home?
There's a few factors to consider when choosing the blinds which will save you the most money on your energy bill and keep you comfortable throughout the year.
You should consider:
The type of blinds you install
The types of blinds that will help you keep your home insulated best are:
Roller blinds
Venetian blinds
Roman blinds
Shutters
The material of your installed blinds
Depending on the type of blind you install, you will have a variety of materials to choose from. The most popular materials to maintain temperatures are:
Thermalite
Fabrics
Wood
PVC
Aluminium
The size of your blinds
Your blinds won't be much help if they don't cover the windows and the elements they're supposed to protect you from.
You should always measure your windows to make sure the blinds and shutters you choose to purchase will fit them before making any purchase decisions.
If you'd like some help creating the perfect shape and sized blinds for your home, book a consultation for your free measure and quote now.
Alternatively, call (07) 5537 6333 and we can talk today.
When to Open and Close Your Blinds
Having your blinds is super important but equally important is knowing how to use them.
If you've ever dabbled in gardening, you've probably heard of following the sun.
Well, temperature control in your home is no different.
In winter
You should maximise the amount of sun you let in throughout the day and close blinds which aren't getting much light as they let the warmth out.
In summer
Oppositely, you should close blinds which let in the hot and magnified sun through your windows, particularly the harsh afternoon sun and heat.
The easiest way to control the temperature of your home using your blinds is using motorised technology.
Motorised blinds can be easily controlled with the press of a button or connected to your smart home and put on timers. By using automatic blinds, you can control the temperature of your home far more effectively than manually running around and keeping track of your individual schedules.
No longer for only luxurious homes, motorised blinds are more affordable than ever and they're a great way to keep your home energy efficient.
Talk to us to find out more about motorised blinds and how we can help you control temperature in your home by calling (07) 5537 6333.
If you're more of a visual learner, come down to our showroom at 1/8 Ereton Drive Arundel to see these blinds and shutters in action.
Post comment