Choosing Blinds to Maximise Light in Your Home
Posted on 3 May 2021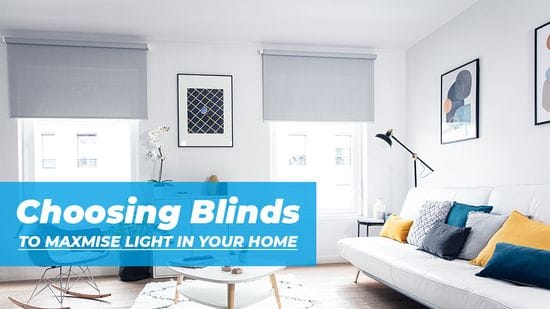 Letting in natural light is one of the best ways to keep your rooms bright and save money on electricity.
More than that, natural light is beneficial to your health and it's the best way to lift a room's spirit in your home.
It's likely that most rooms in your home have a window of some sort, but the type of blind or curtain attached to that window could make all the difference in maximising the light in your room.
Keep reading below to discover our favourite blinds to maximise natural lighting in your home and some tips to go with them.
Ideal for long windows or sliding doors to patios, vertical blinds are a great way to maximise the lighting in a room as they're so customisable.
Unlike many alternatives, vertical blinds move horizontally. The benefit of this is that you can shift them completely out of the way of your window and let in as much light as possible.
You can also tilt your vertical blinds left or right, so you can leave your blinds across your window or door to cut out glare while not restricting too much light in your rooms.
They're also a great way to maintain your privacy.
Roman blinds can be raised or lowered depending on the amount of light you want entering your window.
The uniqueness of roman blinds is that they can't be pulled away from your window entirely.
While slightly restricting to letting light in, many homeowners prefer these blinds as they add colour and texture in their patterns.
If you intend to install roman blinds in your home, consider choosing a lighter coloured fabric to let more light seep through.
Roller blinds are the king of letting light into a room.
Depending on the installation, when completely rolled up, a roller blind won't restrict any light from a room whatsoever.
Additionally, if you like to keep your windows open for those Gold Coast breezes, your roller blinds won't swing around and cause a ruckus.
Depending on the material you choose, you can choose to have your roller blinds all the way down to maintain your privacy while also letting plenty of light in.
Venetian blinds are most similar to vertical blinds, only they lay horizontally across your window.
They're a popular choice for coastal homes mainly because of their aesthetic appeal and choice of materials like timber.
You can also consider PVC or aluminium.
Venetian blinds are also a great choice of blinds for homeowners that wish to maintain plenty of unfiltered natural light while also maintaining privacy.
How to Choose The Best Blind for Your Home
If you're having trouble deciding between the types of blinds and aren't sure if they'll fit your home, give us a call on (07) 5537 6333.
Alternatively, you can book in for a free consultation now and we'll come over to measure your space and provide you with your best options - free of any obligations.
Post comment